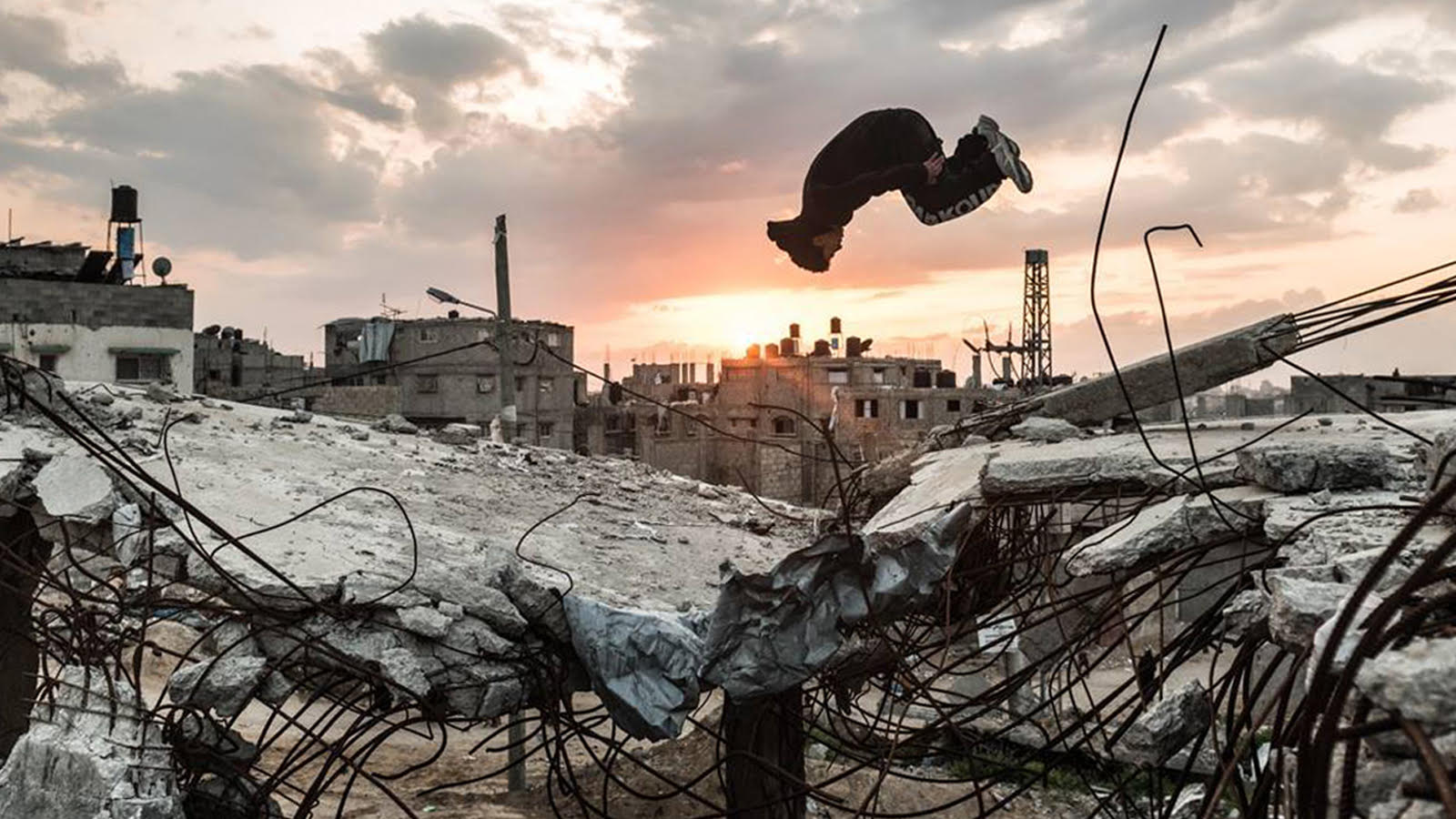 Jehad and Abdallah are two Palestinian athletes, brought up together in the Gaza Strip. In 2005 they founded the Gaza Parkour Team in order to offer the younger generations an alternative to the war. After managing to escape, today Abdallah lives in an abandoned house in Italy as a political refugee, he has no job and he can hardly manage to get by. Jehad is still trapped in the Strip, he takes care of his sick parents and leads the Team by himself, in the terrible political situation of Gaza.
They haven't spoken to each other for years: Jehad has never forgiven Abdallah for leaving him behind.
Despite his bad shape, as a desperate attempt to achieve his dream, Abdallah decides to take part in an international parkour competition. Jehad realizes he won't be able to have any future in the Strip, he decides to apply for a Visa and try to change his destiny.
Their friendship has been torn apart by their choices, yet their destinies are mirroring one into the other. Now more than ever, they need to find out if there is a way that can lead to freedom someone who, like them, was born in prison.
Awards
Winner of the award "Sound Design and Mixing" at Atelier - Milano Film Network 2018 (22 November - Italy)
Winner of the award "Borsa di Sviluppo" at Premio Solinas Documentario per il Cinema 2017 (23 September - Italy)
Winner of the "When East Meets West Award" at the workshop ESoDoc (03 May - 16 September - Norway, Italy)
Credits:
Director: Manu Gerosa
Productions: GraffitDoc (website), Amka Films Production
Associate Productions: Trentino Film Commission, Piemonte Doc Film Fund, RAI Cinema, RSI
Producer: Enrica Capra
Story Consultant: Valentina Toldo
Director of Photography: Matteo Delbò
Camera: Matteo Delbò, Mohamed Abu Safia
Sound recording: Adriano Alampi, Mohamed Abu Safia
Editor: NIcolò Tettamanti
Sound Design and Mix: Massimo Mariani
Producers assistants: Fabrizio Allione
Organization in Gaza: Meri Calvelli
Fixer in Gaza: Mohammed Abu Safia
Accountancy: Selene Silvestri