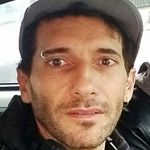 Matteo Delbò

Italy
I studied phylosophy at University, then i graduated at the National School of Cinema. Ever since, i worked for H24 agency, a new media company based in Rome, the first in Europe having developed COFDM WIRELESS UNITS for live.  I filmed live contents for the web streaming all around the Mediaterranean sea, specifically focusing on the migrants fleeing and arabic revolutions.
I was also responsable to coordinate a filmakers group in charge of developing documetary films and reportages for TV and web series.
We have realized 15 documentaries film for Italian television ad 3 web-season for mtv reportage program MTV NEWS. All our work was focused on social issues: climate changes, traffic of drugs, Mafia's issues, waste traficking, health care, urban gangs, domestic violence, religious intolerance, teenage pregnancy.
Our last film, "Catia's choice", is the story of the first Italian woman captain of Libra military ship, engaged in rescuing migrants in Mare Nostrum operations.
Project: Bridges
After having been trained to peacekeeping, a diverse group of civilians go to an area of conflict, where their theoretical and humanitarian knowledge will be put to the test by the fierce and irrational reality of war.