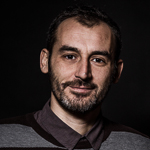 Manu Gerosa

Italy
Manu Gerosa was born in 1975 in Rovereto in Italy; he graduated in Contemporary History at the University of Bologna in Italy in 2001 and the same year he moved to Spain where he began working as director and editor on TV programs and commercials.
In 2006 he moved back to Italy and he started working in Milan. His passion for human relationships and storytelling, pushed him to start developing some personal documentaries projects.
In 2008 he started to collaborate with an Italian NGO to realize his first medium-length documentary, Kamenge Northern Quarters (2010) and his second, Lion Souls (2012).
These experiences brought Manu to leave Milan in 2011, to go back to his hometown and focus completely on his first feature documentary Between Sisters. After having been part of the workshop Dok.Incubator in 2014, the film has been premiered at 56° Festival dei Popoli in December 2015 and it will have its international Premiere at True/False Film Festival in the US in March 2016.
Project: One More Jump
The guys of Gaza Parkour Team desperately want to leave the strip and live as free men. Muahmmed and Abdallah, founders of the Team, escaped from Gaza thanks to Parkour but today they know that leaving it is just a step toward freedom. Now suddenly they have the chance to reunite the Team again.