WHAT IS ESoDoc
ESoDoc - European Social Documentary is an 8-months long training initiative for media professionals who want to improve their storytelling and co-creative skills, to broaden the potential of their documentary and new media project gaining access to a larger market.
ESoDoc wants to strengthen the ability for innovative and audience-centered documentary and new media storytelling, so you can be a creative and active part in the evolving market dynamics and respond to the trends in ground-breaking, collaborative and interdisciplinary ways.
ESoDoc will help you in developing your storytelling skills to turn your topic into an original and compelling story to engage your audience and bring change to our societies.
ESoDoc promotes inclusion, diversity, equality, democracy and - more in general - an attitude of collaboration and open-mindedness that drives professionals to develop their projects in a co-creative, cross-sector and cross-border environment, together with the audience and the other players involved in the complex production chain of the digital era.
WHO SHOULD APPLY
ESoDoc participants are creative professionals, committed to social, political, environmental and human rights issues, open and willing to get involved and to experiment on their project with new documentary formats, new business and co-creative production models.
ESoDoc is designed for authors, directors and creative producers who are willing to dedicate time and energy in the creative development process during the training, who want to approach their project from different angles and explore new forms and new formats of audiovisual production. We welcome also other media professionals such as journalists, communication designers, programmers, NGO communication responsibles, etc...
WHY PARTICIPATING IN ESoDoc
At ESoDoc you will learn to think laterally, to look at the potential of your project from different points of view to develop it in different formats and for different platforms, to use collaborative development tools to better understand the relationship with the audience and create better impact, outreach and distribution strategies.
You will discover how thinking about the audience already from the early development stage of your project will help you to refine your storytelling skills to transform an "issue" into an original and compelling story, able to touch and engage your audience, and drive your push towards social and political change.
To participate in ESoDoc, you should be open and eager to co-create on all the different stages of your project (research, development, production, and outreach) and to bring your individual input to the ESoDoc group. The training will help you to be a proactive player in the audiovisual industry and to elaborate on an innovative project in a constantly evolving market.
What we offer:
8-months of intense project-development process, through 4 phases with residential and online sessions
ground-breaking and inspiring lectures from acclaimed worldwide professionals to discover what is new, controversial and seminal in documentary filmmaking
ongoing project development focused on the use of new diversified storytelling techniques for various formats and platforms
hands-on workshops to increase your ability to analyse, reach and impact your target audience through the most suitable media
masterclasses with top-notch industry professionals to better understand the international market and gain the confidence to approach a wider pool of partners and funders across the audiovisual sector and beyond
a co-creative environment where you will experiment with the other participants and the experts on the development of your project
a specific training that will help you create an extensive "Pitch Deck" fit for residential and online pitching forums
WORKSHOP STRUCTURE
ESoDoc is composed of 4 phases, taking place online and residential (or hybrid).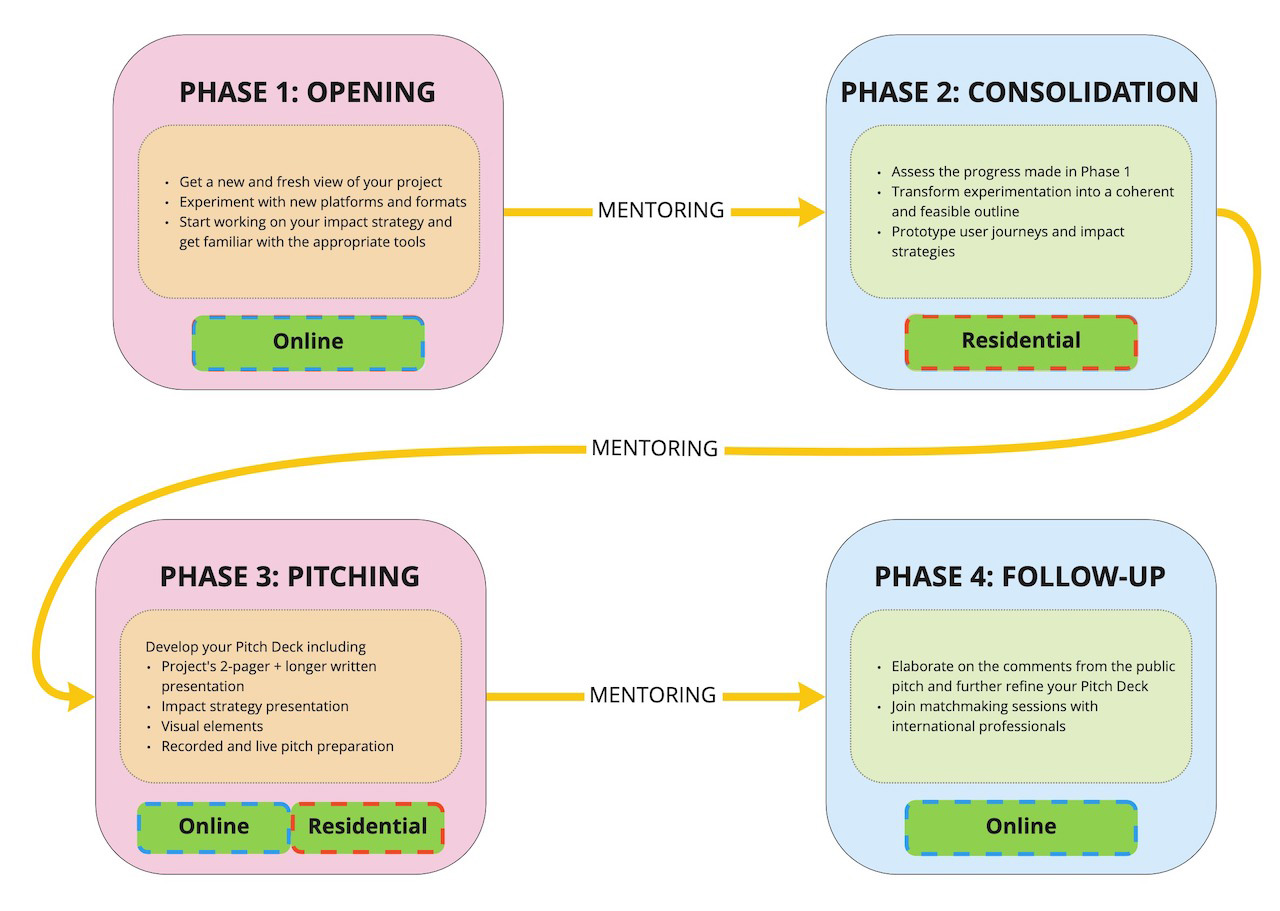 All phases will include frontal lectures, masterclasses, case studies, hands-on workshops, group work and mentoring with experts focusing especially on multimodal storytelling, impact strategies design, teaser analysis, presentation techniques, and others.
The specific phase will articulate as follows:
Phase 1 - Opening (June 5-23, 2023 Online)
get a new and fresh view of your project
experiment with new platforms and formats
start working on your impact strategy and get familiar with the appropriate tools
Phase 2 - Consolidation (Residential: September 4-11, 2023 - Goldrain, South Tyrol)
This phase will focus on:
assessing the progress made in Phase 1
transforming the experimenting done before into a coherent and feasible project's outline
prototyping user journeys and impact strategies
Phase 3 - Pitching (Online: November 20-30 + Residential (t.b.c.): December 4-11, 2023 - Tbilisi, Georgia)
In this phase, you will develop your Pitch Deck. This will be composed of different elements suitable both for "traditional live pitching", as well as for "online pitching forums", such as:
Project's 2-pager + longer written presentation
Impact strategy presentation
Visual elements of the project
Recorded and live pitch preparation
Phase 4 - Follow-up (from December onwards 2023 - online)
In this phase you will work together with mentors following the feedback received at the final pitch, further refining your pitch deck to prepare for future industry meetings. Additionally, you will join matchmaking sessions with international producers and other industry professionals.
PARTICIPATING COUNTRIES
We can accept participants coming from all EU member countries and from Creative Europe Programme associated countries. The full list includes:
Albania
Austria
Belgium
Bosnia and Herzegovina
Bulgaria
Croatia
Cyprus
Czech Republic
Denmark
Estonia
Finland
France
Georgia
Germany
Greece
Hungary
Iceland
Ireland
Italy

Latvia
Lichtenstein
Lithuania
Luxembourg
Malta
Montenegro
Netherlands
North Macedonia
Norway
Poland
Portugal
Republic of Serbia
Romania
Slovakia
Slovenia
Spain
Sweden
Ukraine
Participation of Non-EU professionals
ESoDoc can accept up to 5 participants coming from countries not participating in the MEDIA strand.
PARTICIPATION FEE
The participation fee covers all online and residential tuition, coaching and mentoring. It includes room and board for all residential sessions (accommodation might be in a single or a shared double room, according to availability). Travel expenses are not included.
REGULAR FEE: 1.800 EUR
REDUCED FEE: 900 EUR
The reduced fee can be applied only to participants coming from the following countries:
​​Albania, Bosnia and Herzegovina, Bulgaria, Croatia, Cyprus, Czech Republic, Estonia, Georgia, Greece, Hungary, Iceland, Latvia, Lichtenstein, Lithuania, Malta, Montenegro, North Macedonia, Poland, Portugal, Republic of Serbia, Romania, Slovakia, Slovenia, Ukraine.
The reduced fee will be applied also to all non-EU participants, except for those coming from North America, the United Kingdom, Switzerland, Australia and Japan.
For more information, please contact us.
SCHOLARSHIPS
Scholarships are available and will be granted to participants coming from countries not providing scholarships for this kind of training or participants in any other proven situation of need for financial support.
A "full scholarship" covers the enrolment fee AND the travel costs for all residential sessions. In case of a high number of scholarship requests, we might assign a "partial scholarship", which would cover the enrolment fee OR the travel costs.
If you want to access scholarship funding, you must provide 1 copy of your latest official tax return and also explain the reasons for asking for the scholarship together with your application. No other kind of document shall be considered.
IDM SCHOLARSHIP
IDM - the South Tyrolean Film Fund - will award one scholarship to a filmmaker with a South Tyrolean effect: either born in South Tyrol or living in South Tyrol or ZeLIG graduates from 2010 onwards). This scholarship is available only to applicants fulfilling this requirement, and you'll be required to submit your latest tax return anyway.