WHAT IS ESoDoc
ESoDoc - European Social Documentary is the training initiative for media professionals who are eager to develop their documentary project and elaborate the values of diversity and co-creation in their linear and non-linear communication with people, in the access to their stories and in the development of their project for various formats and platforms. 
ESoDoc will increase your ability for innovative documentary storytelling, in order to give creative impulses to the evolving market dynamics and to respond to its trends in flexible, collaborative and interdisciplinary ways. 
ESoDoc promotes the idea of collaboration in order to encourage open-minded and politically engaged media-makers to develop their multi-media projects in a co-creative environment to increase synergies which will allow them to profit more from the opportunities offered by the changing media landscape. 
WHAT WE OFFER
ESoDoc is conceived as a "lab for ideas", where participants are encouraged to experiment with their project by exploring new creative development opportunities.
To participate in ESoDoc, you should be ready for change – also in your attitude and mindset – in order to be a pro-active player able to bring original inputs to the group and to elaborate an innovative project in line with the new trends of the audiovisual industry.
ESoDoc is composed by:
three intense one-week residential sessions held in three different locations across Europe
Extended Online Sessions taking place in the in-between periods and as follow-up
one-to-one tutoring by international experts
At ESoDoc you will:
think about the audience from the beginning
assist ground-breaking and inspiring lectures from acclaimed worldwide professionals and discover what is new, controversial and seminal in documentary film making
work co-creatively in big and small groups with the other participants and the experts to develop your project
work to expand your project on more platforms through different formats (at least one)
learn how to design outreach strategies to increase the impact of the project
take various practical masterclasses about storytelling/writing techniques, new-media production, participatory media
get trained in pitching skills and present your projects in front of renowned experts at the final public pitching session
have a "pitching package" at the end of the workshop, composed by a refined 2-pager, visual material and presentation

WHO SHOULD APPLY
ESoDoc participants are creative professionals, committed to social issues, open and willing to get involved and to experiment on their project with new formats, new business and co-creative production models.
ESoDoc is designed for authors, directors and creative producers who are willing to dedicate time and energy in the creative development process at ESoDoc, who want to approach their project from different angles and explore new forms and new formats of audiovisual production. We welcome also other media professionals such as journalists, communication designers, programmers, NGO communication responsible, etc..
ESoDoc welcomes professionals from all countries from the Creative Europe programme. We can accept up to 3 participants from non-EU countries.
PARTICIPATION FEE
The participation fee covers tuition, room and board for all three sessions. Please note that accommodation might be in single or a shared double room, according to availability. Travel expenses are not included.
REGULAR FEE: 1.500 EUR 
REDUCED FEE: 750 EUR - thereduced fee can be applied only to participants coming from low production capacity countries: Albania, Bosnia-Herzegovina, Bulgaria, Croatia, Cyprus, Czech Republic, Estonia, Greece, Hungary, Iceland, Latvia, Lithuania, Luxembourg, Malta, Montenegro, Portugal, Romania, Slovakia, Slovenia, Serbia, Tunisia
For the participation fee for non-EU countries, please contact us.
SCHOLARSHIPS
Three (3) full scholarships are available only to participants coming from low capacity countries. A "full scholarship"  covers the enrolment fee AND the travel costs for all three sessions. In case of a high number of scholarship requests, we might assign a "partial scholarship", which would cover the enrolment fee OR the travel costs.
If you want to access scholarship funding, you must provide 1 copy of your latest official tax return and also explain the reasons for asking the scholarship together with your application. No other kind of document shall be considered.
VENUES
The 3 sessions of the 2019 edition will take place as follows: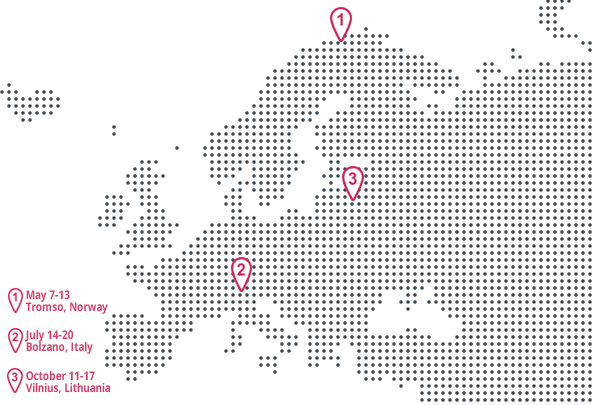 Session 1: May 7-13, 2019 - Tromso, Norway

Session 2: July 14-20, 2019 - Bolzano, Italy

Session 3: October 11-17, 2019 - Vilnius, Lithuania
APPLICATION PROCESS
The application form is available at this link: https://form.jotform.com/83461789458979
Please note: the form in the link above will create your personalised application form. After filling it, you will receive an email with the actual application form, which you will be able to save it and resume later. 
To complete the application form you will be requested the following materials (please read carefully the description of each item below the list):
Curriculum vitae (in pdf, max. 2 pages)
Short Professional Profile (max. 1000 characters)
Video presentation with motivation
Link to samples of previous professional work (any media is accepted: film, photos, webpage, etc.)
Project Proposal on which you will work during ESoDoc (see the indications below)
Link to ORIGINAL visual materials
Latest Tax Return or equivalent official document (only if you want to apply for the scholarship)
Additionally, the commission might request to have an online meeting with you during the selection process. In this case we will contact you to set up the meeting. 
GUIDELINES FOR SUBMITTING YOUR APPLICATION
Please read our FAQ - Frequently Asked Questions! There you might find most of the answers to your questions!
Incomplete applications or forms NOT submitted within the due date will be automatically ineligible for entry.
All mandatory fields in the form are marked with * and they need to be filled in.
For fields marked with a prescribed word or size limit, exceeding the limit would not allow submission of the form.
File format and naming: all documents to be attached (CV, project proposal, tax return, etc.) must be in PDF format. Please kindly insert your surname also in the file name followed by the document name (i.e. smith-cv.pdf, smith-proposal).
CV and Short Professional Profile
The CV in pdf must be no longer than 2 pages. If you have a long filmography/work experience list, please reduce it to a reasonable number of valuable references. 
In the application form you'll be asked to insert a Short Professional Profile. It should not be a "copy & paste" of your CV or your filmography. Please write here a brief text about your professional career.
PLEASE NOTE: in case of selection, we will use this text for different purposes, such as the ESoDoc's webpage, the preparation of the didactic material, communication to the trainers, etc.
Video presentation with motivation
In this short video (maximum 90 seconds) you should tell us who you are and why you want to take part to ESoDoc and what are your expectations from the training. This IS NOT the motivation to do your project, but the reason why you want to participate to ESoDoc.
PLEASE NOTE: for this video the "style" and the quality is not important. You can do it with the webcam of your computer, with a mobile phone or anything else. What is important, is that you introduce yourself to the commissioners clearly, and that you explain clearly your motivation to take part to ESoDoc.
Sample of Previous Professional Work
You can submit 1 sample of a previous work you've been working on. We accept any media: it can be a film, a cross-media project, a photo-story,  a game, etc. In any case it must be submitted digitally. No physical copy will be accepted. If you are submitting a film, kindly submit the whole film, not just excerpts or the trailer. If you have several example you want to submit, please choose one, the one that best represents your work in order to take part to ESoDoc.
DO NOT use any service which keep your files available only for a limited time (such as WeTransfer). We prefer to have the file available online through services as Youtube or Vimeo. Both services have privacy setting which allow you to share your videos securely and privately (Youtube: please select the "unlisted" option, NOT the "private" option - Vimeo offers to protect your videos with a password). Other file sharing services (i.e. Sync, Dropbox, Google Drive, SkyDrive, Box.com, etc.) are accepted, but the file must be kept online until the end of the first session.
Project Proposal
The project proposal is composed by various elements. In this section you'll be asked to insert:
a logline (max 300 characters) and a short synopsis (max 1000 characters) about your proposal. In case of selection, these texts will be used for different purposes (i.e. ESoDoc's webpage, etc.)
a 2-pager (in pdf): it must include a story-outline, a short description of the main character, a brief description of the visual approach (the form/style of your project)
a description of your access to the main characters/institutions
a precise description of the state of your research
partners: please indicate any partner involved in the project (NGO, broadcaster, foundation, film fund, etc.) and their role in the project
a description of at least one other  platform / format in which your project might be further developed 
Visual materials related to your project
Your project proposal must be well researched and accompanied by original visual materials. It can also only be research material, but you must have a solid base of original visuals to actively participate in the co-creative development process of ESoDoc.
Tax return
This document must be submitted only if you are applying for a scholarship. Tax returns have different names and forms in every country, and it is impossible for us to indicate exactly what is the corresponding document in your country. What we need, is an official document issued by your State certifying your latest income. No "self-certification" will be accepted. If you are unemployed, please provide the necessary documents to prove your position. If you are still living with your parents, please provide their tax return. Please note: this document is mandatory to be eligible for the scholarship, and no other document will be taken into consideration.
SELECTION CRITERIA
We choose 18 participants on the basis of interest and attitudes towards social issues, level of technical and social skills, willingness and motivation to learn.
The selection is based on the following main elements of analysis:
sensibility to social issues
professional competences and social skills
attitude to team-work
interest in innovation, cross-thinking and strategic vision
orientation and attitude towards the audience
motivation and willingness to change
professional quality and working experience
Our selection will take into account the balance of gender and countries in order to draft the final list of participants.