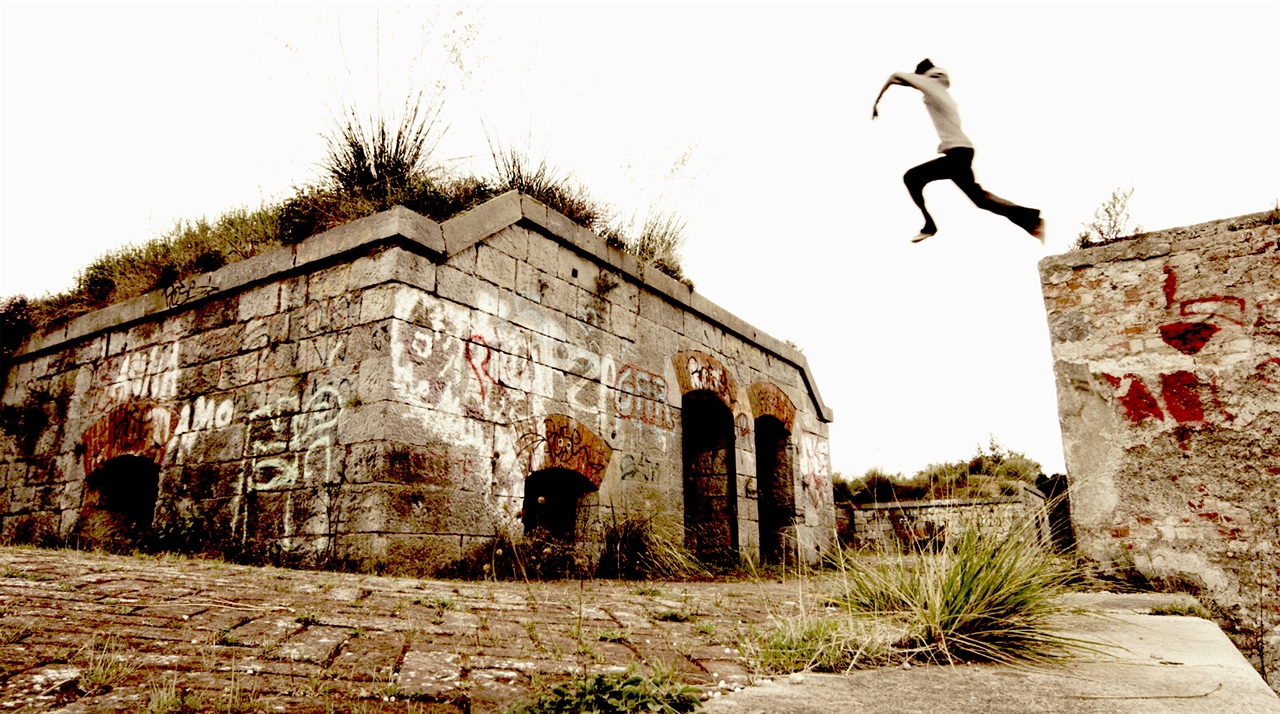 Muhammed and Abdallah, are the founders, leaders and masters of the Gaza Parkour Team (GPT), established in 2005 and presently considered the best in the Arab world.
In 2013, they had been invited to Italy to take part in an international Parkour workshop. This was their great chance to leave Gaza and pursue their dream of becoming professional Parkour athletes in Europe. Upon arrival they claimed and received political asylum.
But today their lives are far from what they had imagined. Muhammed lives in a small Swedish village where he has gotten married and has a daughter. He looks forward to finding a job that will allow him to support his family, but must first finish school and get a diploma. Abdallah instead lives in an Italian farm village with his girlfriend. He rustles up work wherever he can, but has barely enough to survive.
Neither has the freedom or will to practice Parkour every day like they had when they were trapped in Gaza. And they sorely miss the other members of the team still living in the 'Strip'.
Ibrahim, Ahmad and Musa are three young team members who ever since their leaders had run away, are struggling every day to keep the group together. Though still isolated and secluded in the 'Strip,' Parkour fills their lives with the hope of one day leaving that land. As already experienced by Muhammed and Abdallah, they are waiting for a lucky break that will allow them to go to Europe.
Every day they train hard and record their progress with a video camera. Every night, excluding the frequent electricity blackouts, they meet to edit the videos and load them onto their YouTube channel.
This is their only way to keep in daily contact with their masters Muhammed and Abdallah and to make themselves known to the outside world, while also raising awareness about their condition in the Gaza Strip.
David Belle, pioneer and founder of Parkour, is a fan of the Gaza Parkour Team. Appreciating their performances and supporting their cause, he recently contacted Muhammed and Abdallah and asked the Gaza Parkour Team to take part in the major international Parkour event he's organizing in France.
Muhammed and Abdallah know that this might be their last chance to fulfil the dream for which they had left their homes. At the same time they are painfully aware that it won't be easy to help the others leave Gaza in order to put the full Team together again.
They break the news to Ibrahim, Ahmad and Musa via Skype: it's on! They'll lay it all on the line and do everything it takes to be a united team again.
But for the youths in Gaza, the difficulties are even harder than imagined. Life for Ibrahim, Ahmad and Musa will undergo severe trials and tribulations. For example, it gets increasingly tougher for them to find training spaces where they don't risk being expelled by people who consider their passion immoral. Sometimes their training sessions are even interrupted by Hamas soldiers who cannot accept all that 'senseless hopping around' rather than fighting for their cause. What's more, with that 'foolish hobby' they risk being 'spotted' by Israeli drones and mistaken as fighters.
And if that weren't bad enough, their families object as well. Ahmad's father is a member of the moderate Palestinian political party Fatah and he wants the family to keep a low profile so as not to create problems with the Hamas police force.
Ibrahim is the eldest of five children and getting by after his father's death has been terrifically hard. His uncle has connections with some black market traffickers who, through the secret tunnels, provide the Strip with fruit and vegetables. Ibrahim will have to work with him and sell the produce at the neighborhood market, hoping to earn enough to keep his family while also saving enough so that he may one day propose to his fiancée.
Musa lives with his grandmother, an old Palestinian woman well known in the neighborhood for her faith healing skills. Although she cannot begin to fathom them, Habiba is the only one who supports his dreams since she knows that - Inshallah - they will one day come true. Whenever a team member gets injured during a training run, she concocts a marvelous poultice made of herbs and mud. Inordinately fond of his grandmother, Musa isn't sure whether he could actually bring himself to leave her to chase after his dream.
Muhammed and Abdallah need to find the resolve train and get back in peak shape. And meanwhile, they need to gain the support of an important NGO capable of guaranteeing for the expatriation of their friends; They consider launching a web campaign to collect signatures in favor of a visa for their friends along with crowdfunding to cover the cost of the journey.
If Muhammed and Abdallah can rustle up the money and the Gaza boys can obtain visas, then the ultimate fulfilment of their dreams will still depend on the complex political situation; Ibrahim, Ahmad and Musa and their mates will have to pass through the Rafah Border Crossing - a way that in the last year had been sealed except for two short weeks.
This is the story of Ibrahim, Ahmad and Musa, open sky prisoners who want to escape and live as free men. They dream of one day becoming professional Parkour athletes, but they don't know anything about life outside Gaza.
This is the story of Muhammad and Abdallah, escapees from the same prison, thanks to Parkour, who know that leaving Gaza comes with its own heavy cost and that living in Europe is only the first step towards becoming free men.
Credits:
Director: Manu Gerosa
D.o.P.: Matteo Delbò
Producer: Enrica Capra
Production company: GraffitiDoc - website