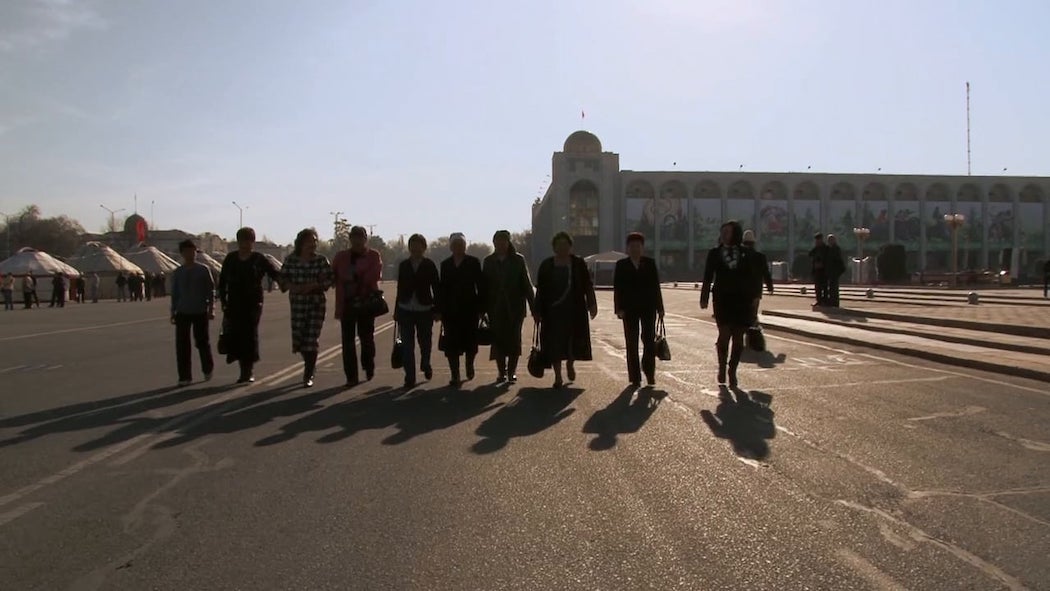 Every day huge trucks thunder through the Kyrgyz village of Barskoon. They are carrying a deadly freight: cyanide, which is used to extract gold at the nearby Kumtor mine. In 1998, one of the cyanide trucks crashes into the river that runs through the village. People die and hundreds of villagers fall ill. After seven years – in which the Kyrgyz government does nothing – a handful of courageous women begin to fight for the rights of the victims. Erkingül and her fellow campaigners found a small environmental organisation, block the road leading to the mine and eventually manage to secure 3.7 million US dollars in compensation from the Kyrgyz -Canadian gold mine.
The women are also at the forefront of a revolution which topples the government under President Bakiyev in spring 2010. After the first democratic election, Erkingul manages to secure a seat in parliament and continues to lead the fight against the gold mines as a politician. Her friends stay behind in the village.
Staying very close to the activists, this humorous film describes not only the political commitment displayed by these women in their struggle for justice, but also how people manage to survive in a Kyrgyz village.
Watch the trailer on Vimeo
Credits:
A film by Mirjam Leuze
With Erkingul Imankodjoeva, Sakish Konokbaeva, Asel Orumbaeva, Tamara Djusheeva, Gülkayr Osmonalieva, Bubuhan Ormonova, Totugul Asylbekova, Arsar Bekturova, Nazgul Asanova, Sakia Tshipbaeva
Credits
Directed by Mirjam Leuze
Edited by Sandra Brandl
Director of photography Mirjam Leuze
Archive camera Erkingül Imankodjoeva, Gülkayr Osmonalieva, Tamara Djusheeva
Animation Talant Turganbaj
Graphic design Volker Nettekoven
Coulor matching Felix Hüsken
Sounddesign Henning Hein
Re-recording Lothar Segeler
Production assistant Ralf Kellershohn
Producer Mirjam Leuze
Coproducer Christian Vizi
Film production TOPOS in coproduction with VIZION sponsored by FILM- UND MEDIENSTIFTUNG NRW, BROT FÜR DIE WELT & EVANGELISCHER ENTWICKLUNGSDIENST
developed at ESoDoc 2007
Germany 2014, 96 min.

Official website: http://flowers-of-freedom.com/