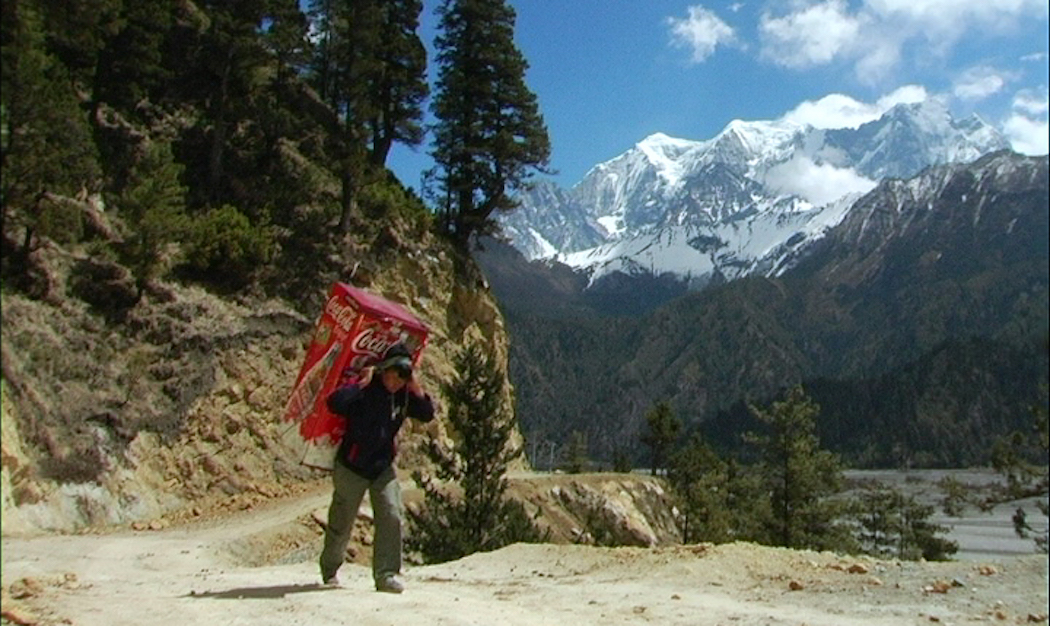 This is the story of a 17-year-old boy named Hari Rai, who lives in a small village in the Himalayan Mountains of Nepal, and his extraordinary journey.
Hari Rai is a student at Management University in Pokhara but he also works as a porter so he can pay his University fees and cover his living expenses. Although very young, he already has a 3 year experience carrying loads up and down the mountain, mostly for tourists.
This time, he gets the job of carrying huge red Coca-Cola refrigerator to the nearest town.
Over this 4-day journey we discover Hari's inner life, his thoughts, hopes and dreams but also we get to know the culture and way of life of local inhabitants in this region. We learn about their relation to some of the most important aspects of their life: nature, religion, family. We will also get to learn something about ourselves - western tourists, seen through the eyes of simple but very wise young boy.
From terraced fields and fruit trees to vistas dominated by 8000 meter peaks, from lush, riverside hot springs to arid, mountainous landscapes, from sacred Buddhist temple complexes to thatched huts villages, in contrast to red Coca-Cola fridge endangering these unspoiled virginal areas.
The changing landscape of the journey takes us from the personal to the general, from empty arid mountains to the crowds and bustle of urban life.
by Natasa and Lucian Muntean
AWARDS
- Trento Film Festival, Trento, Italy: Silver Gentian for The Best Television Production
- TOURA D'OR Film contest 2008, Berlin, Germany: TOURA D'OR 2008 Winner
- Whistler Film Festival, Vancouver, Canada: Best Mountain Culture film
- Lola Kenya Screen, Nairobi, Kenya: Best Documentary Award
- Taos Mountain Film Festival, New Mexico, USA: Best of Festival Jury's choice Award
- Tegernsee Int'l Mountain Film festival, Germany: Best Documentary on Mountain Life
- Kendal Mountain Festival, Kendal, England: Best Mountain Culture Film & Grand Prize Special Mention
- Torello Mountain and Adventure Film Festival, Torello, Spain: Best Film on Mountain Environment & Best Script Award
- Mountain Film Festival, Ljubljana, Slovenia: Best Mountain Nature and Culture Film Award
- Vancouver Int'l Mountain Film Festival, Vancouver, Canada: Best Film on Mountain Culture
- ShAFF - Sheffield Adventure Film Festival, Sheffield, England: Best Cultural Film
- CRONOGRAF International Documentary Film Festival, Chisinau, Moldova: Audience Award
- Zakopane Mountain Film Festival, Zakopane, Poland: Youth Jury Award
- DaKINO International Film Festival, Bucharest, Romania: Special Jury Award
- International Mountain Film Festival, Bansko, Bulgaria: Jury Special Award
- Norwegian Documentary Film Festival, Volda, Norway: Honorable Recognition
- Cinema City Int'l Film Festival, Novi Sad, Serbia: Special Mention
- International Festival of Mountain Films, Poprad, Slovakia: Honorable Recognition
BROADCAST
ARTE France & Germany (Les tribulations d'un frigo rouge)
YLE Teema, Finland (Punainen jaakaappi)
ORF, Austria (Die Reise des roten Kuhlschranks)
Mac TV Scotland
RAI Italy
RSI Switzerland
Axess TV Sweden- RSN Television USA