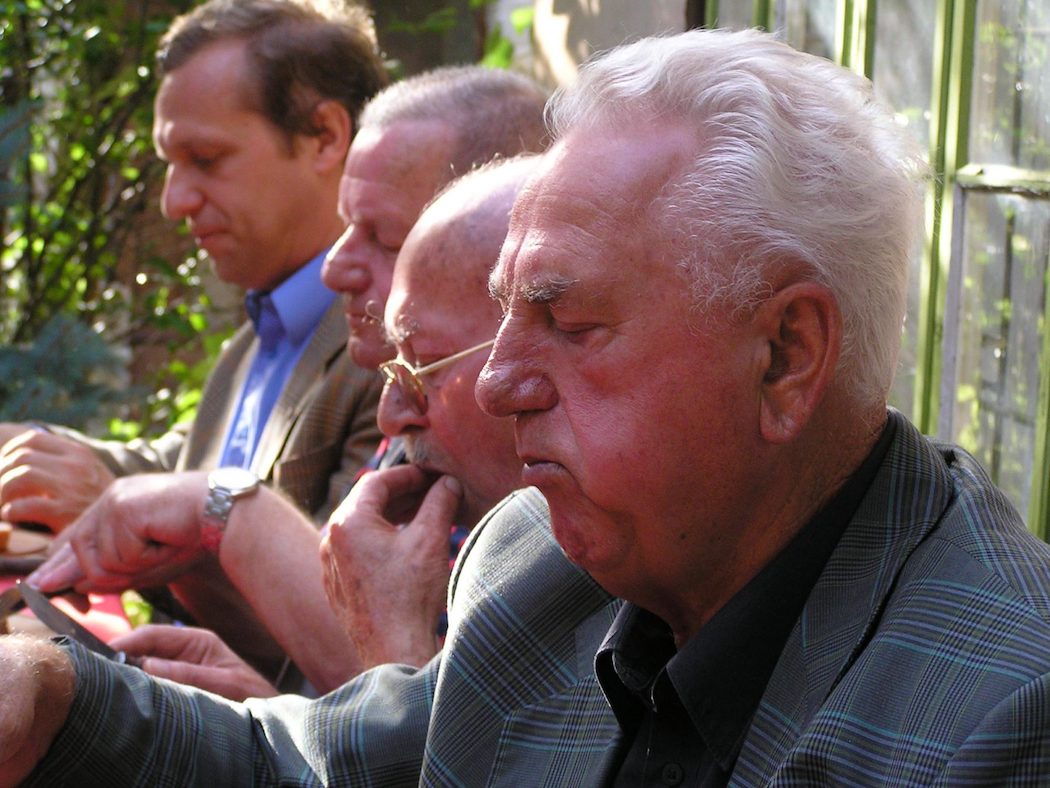 Ghetto, brick factory, train station, mass graves - this time the neighbours of the Hungarian Jews remember. What did the bystanders see and what do they believe they saw in their small town community during the last days of WWII? The documentary Once They Were Neighbours is about the present as much as it is about history: the shadows cast by the failure to face the past during the last 60 years.
Kiszeg is a picturesque small town surrounded by mountains on the Austrian border of Hungary. A 150 year-old synagogue stands in the heart of the city - abandoned, overgrown with weeds, the gates locked. An old man stops in front of the synagogue and says: "The Jews don't restore it! Those Jews, they have so much money!" 60 years ago they were neighbours, but today - just like almost anywhere in the countryside - no Jews live here.
The former lager-guard and the man who lived right by the brick factory as a teenager, or the lady who brought food in the ghetto as a young girl have similar memories. They speak admiringly of their former neighbours' business talent and say that the Germans were to blame for everything.
But were they really...? The film raises difficult questions regarding the actions of average non-Jewish Hungarians while their Jewish neighbours were sent to their death. The people of Kiszeg - along with the entire Hungarian society - have never really faced the past, never taken responsibility, never asked the questions: How did we let it happen? What could have been done?
Credits
DVCAM, length: 65 min., 2005, Hungary
Hungarian with English subtitles (original title: Szomszédok voltak)
Director, cinematographer: Zsuzsanna Varga
Script, interviews: Bori Kriza
Producer, composer: Balázs Wizner
Editor: László Hargittai
Produced by: Metaforum Film
website
Broadcasted on:
- Duna TV (public service TV, Hungary) - 2007
Festival screenings and awards
- 37th Hungarian Film Week - Budapest, Hungary - official selection - 2006
- Big Sky Documentary Film Festival - Missoula, Montana (USA) - official selection - 2006
- 3rd Film.dok Hungarian - Romanian Documentary Film Festival - Miercurea Ciuc, Romania - official selection - 2006
- 30th Atlanta Film Festival - Atlanta, GA (USA) - official selection - 2006
- 19th Dallas Video Festival - Dallas, TX (USA) - official selection - 2006
- 3. Cinefest Miskolc - International Festival of Young Filmmakers - Miskolc, Hungary - Duna Television's Special Award - 2006
- IV. Jewish Festival of Szombathely - Szombathely, Hungary - 2006
- Berkeley Film & Video Festival - Berkeley, CA (USA) - Honorable Mention Award - 2006
- 21st Fort Lauderdale International Film Festival - Fort Lauderdale, FL (USA) - official selection - 2006
- 2006 Jewish Eye World Jewish Film Festival - Beer Sheva, Israel - official selection - 2006
- Kamera Hungária 2007 Television Program Festival - Pécs, Hungary - finalist - 2007