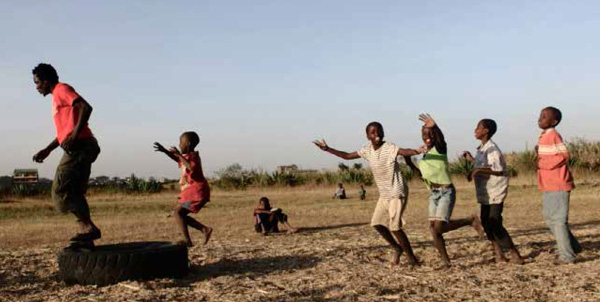 Steve is a self-taught acrobat from Nairobi, Kenya, who has been coming to Europe to perform with his group "Nafsi Africa" since 2004.
We follow Steve on his "hero's journey," overcoming different obstacles to ght poverty and bring positive change to the soci- ety, by using acrobatics and always nding new creative solutions to any problem. The money he raises with his performance act, he uses to fund his educational project back home; providing shelter, food, clothing and education to children in need. The lm travels back and forth from Europe to Nairobi. Europe representing the present moment in the lm and Africa show- ing us the past and the background story of our protagonist, allowing the viewer to understand why he is in Europe, what drives him and what keeps him moving forward. Steve has to overcome many obstacles on his way to achieve this change; while he is in Europe he is treated like an immigrant and he and the group are faced with long and exhausting police controls on every step of the way, often forced to listen to racist comments on their account. He is also very much in love with Fiora, a musician from Amsterdam. They have to balance their relationship and plan their future together based on how many Schengen visa days he has left in his passport.
On the other hand, while back home, Steve faces the reality of the African slums on every day basis. Through his eyes we get to know the life in the slums; all the chaos, the loudness, people living on top of each other in all sorts of dark improvised homes, with no canalization, no drinking water and no garbage disposals. Through Steve we can feel on our skin how it is to battle with this broken society in order to save just a few of its kids. It is often a battle Steve loses, considering that most of the children he is working with, come from broken families and are often abused and forced into labor by their parents or other family members.
Participant: Nika Saravanja - Croatia