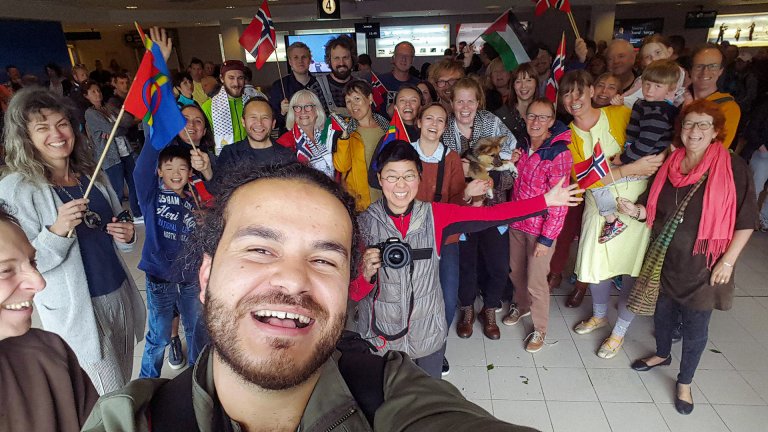 Two ESoDoc projects will be in different parts of IDFA 2023.
The project "Flower of Ukraine" by Adelina Boret (ESoDoc 2022) has been selected for this edition of IDFA Forum. The project received also support from IDFA Bertha Fund, and was recently selected for the DOK Preview pitching at DOK Leipzig.
About the project: Natalia lives harmoniously in her green paradise, surrounded by the cement jungle in Kyiv. She defends her queendom against real estate developers, but the true battle begins with the full-scale invasion of Ukraine.
The film "Life is Beautiful" by Mohamed Jabaly - who joined as a guest participant at ESoDoc's residential session in Tromsø, organised in partnership with Nordnorsk Filmsenter - will have its World Premiere in the International Competition on November 11 at 17:15 (more info here).
About the film: in 2014, the young Palestinian filmmaker Mohamed Jabaly was on an exchange in Norway when the borders of his home Gaza were closed for an unspecified period. This posed several problems, one being that the Norwegian government would not accept his Palestinian passport, meaning that Jabaly was now stateless. Then his application for a work permit was rejected, because being a self-taught filmmaker meant he didn't have the necessary qualifications. It meant he was trapped with his host family in the arctic city of Tromsø, and couldn't travel. One of the upshots of this situation was that he was unable to attend the screening of his 2016 debut film Ambulance at IDFA. While awaiting a decision from the court, and following the dismal paths of political and bureaucratic logic, Jabaly films himself and his Norwegian friends and colleagues in the snow-covered serenity of the spectacular Norwegian landscape. These scenes contrast starkly with the agonizing images and messages he receives from family and friends in Gaza. The close-knit artistic and film community in Tromsø, meanwhile, is making every effort to support Jabaly.