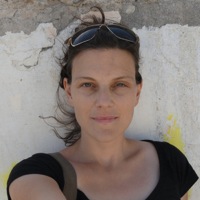 Miriam Fassbender started working in filmbusiness as 1st and 2nd AC on movies such as SOULKITCHEN (F.Akin), DESERT FLOWER (Sh.Horman), ZARINS STORY (SH.Neshat) or BAADERMEINHOF KOMPLEX (U.Edel).
2005 she graduated in Cinematography at the filmschool FAMU, Prague.
Since than she is working as freelance camerawoman on documentaries, amongst them "Gegen" by H.M.Helgasson, "Menschen in der Viktoriastadt" by J.Kochs, "Out of place" by Miri Funk or "Rolf Losansky- Verdammt ich bin erwachsen" by D.Seume.
Fremd is her first feature documentary as a director. She has a small production company callled Huckepackfilm, that is interested in society-critical issues.