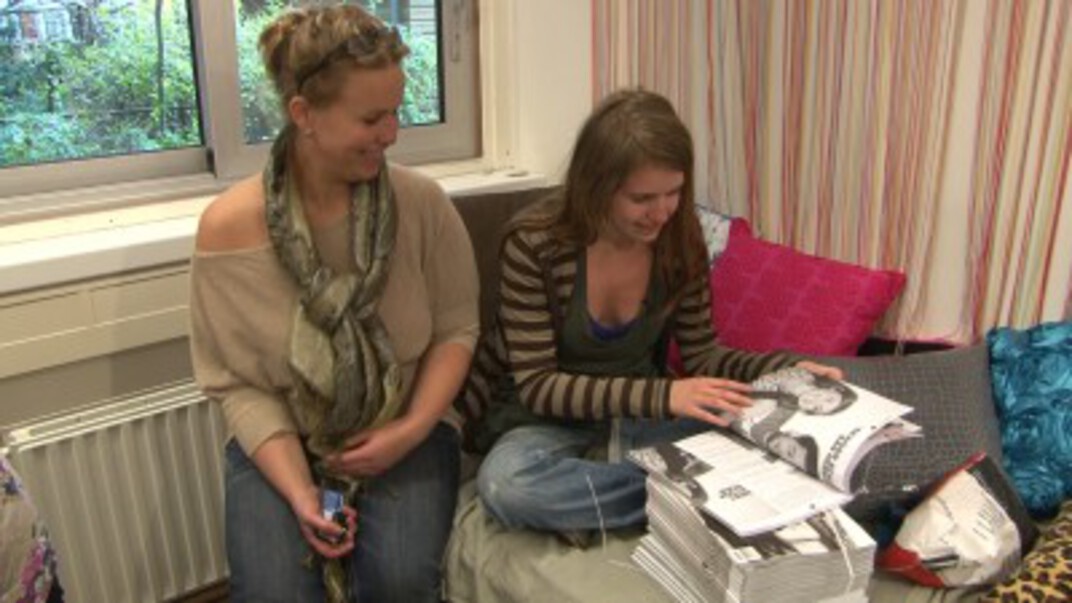 Anne is 20 years old and she is no longer able to regulate the pressure of the cerebral fluid due to two strokes. In spite of the drain in her head, any physical effort raises the pressure and sitting up for more than half a minute can induce a pass-out. Restrained to her bed and wheelchair, she is literally imprisoned in her body… Despite her limitations she is trying to make her ambition come true: the creation of a hip and positive, magazine, called 'Unlimited', made by handicapped and chronically ill young adults. Anne's enthusiasm and perseverance is an inspiration: within a few months she gathers 35 young adults around her who voluntarily help her to realize her dream! They want to break taboos, inspire people, give them hope and show the world that they are unlimited in spite of their limitations.
The documentary follows the sympathetic Anne during the last five months up until the launch of the magazine. We see how she edits articles, does interviews, has photo shoots and the like. Without any experience as an editor it is anyhow difficult to create a successful new magazine and Anne's physical condition seems to deteriorate, as they found a bacteria on the drain in her head. She has to undergo surgery for the 23rd time in 3 years. She doesn't seem to recover well after…
The big question is whether this whole project is feasible for Anne. Will she pull it off while her physical condition is deteriorating? How does she cope with her limitations? What drives Anne and where does she find the power to pursue her ambition? Ambitions that healthy people do not even dare chase after...
Credits
Anne Unlimited - 50 minutes, 16:9, HDV
Credits:
Director: Katelijne Langezaal (Netherlands)
Camera, sound: Katelijne Langezaal (Netherlands)
Editor: Jan Langeveld
Production: Katelijne Langezaal (Netherlands)
Postproduction sound: Theo Raben
Colorcorrection: Editpoint
Editor in chief NCRV: Jelle Peter de Ruiter
Production NCRV: Yolande van der Blij
Broadcast:
- NCRV Dokument - Nederland 2 (March 2011)