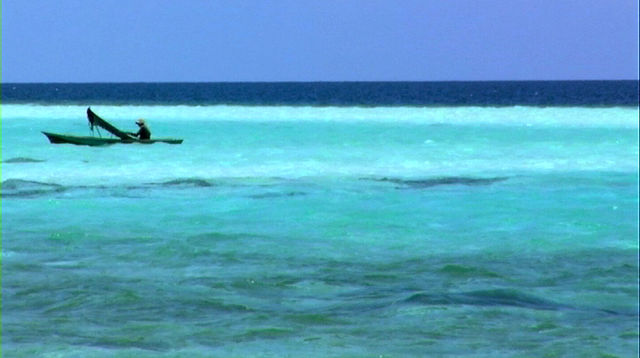 Everyday at sunrise Indanina wakes up on a tiny coral island with white sand and coconut trees. She washes clothes and dishes in the sea and puts on her home-made face cream to avoid sunburn. She then walks in shallow turquoise waters during low tide to collect the clams for her daily meal… All the while almost constantly singing! She is a young "Sea Gypsy".
Like the many nomadic, seafaring people living in houseboats around Borneo, on the Malay border with the Philippines, she has learned to live in complete harmony with the sea, managing to survive in the face of poverty and piracy. But this equilibrium that has sustained them for centuries is endangered by the fast changing and threatening world developing around them.
We follow this unique moment in their trajectory through the eyes of Indanina. At odds with the marine park fishing restrictions, Indanina and her family struggle for survival on this breathtaking paradisiacal island. Their only rescue: moving to the mainland, in the largest town, Kota Kinabalu, where they will collect oysters from the river to sustain themselves and buy food. They find precarious shelter under a bridge and in those cruel living conditions Indanina gives birth and looses her newborn baby. She knows she does not belong there, but this hostile new world, away from the sea has become her only gateway to survival. As we follow her through this challenging journey, she grows to be a married woman and a young mother by the end of the film. In the meanwhile, back on her island, the remaining Sea Gypsies, including her elder brother and his family, have been chased away after their huts have been burnt down. The tourist operators from the mainland have different plans for the Island given the fast touristic growth in the area. It is now becoming a world wide famous diving location.
Through this overwhelming change in Indanina's life and through her personal search for a sense of belonging, we gain insight into the fragile world of the sea gypsies. Her journey in an alienating fast changing world becomes the story of her people.
Credits:
Director/Producer/Cinematographer: Elena Zervopoulou
Associated producer: Emanuele Giasi
Cinematographer (for HD): Lamb Khairun
Editor: Kenan Akkawi
Produced by One Vibe Films & Steps International
This film is one of the 33 short films selected worldwide for Why Poverty