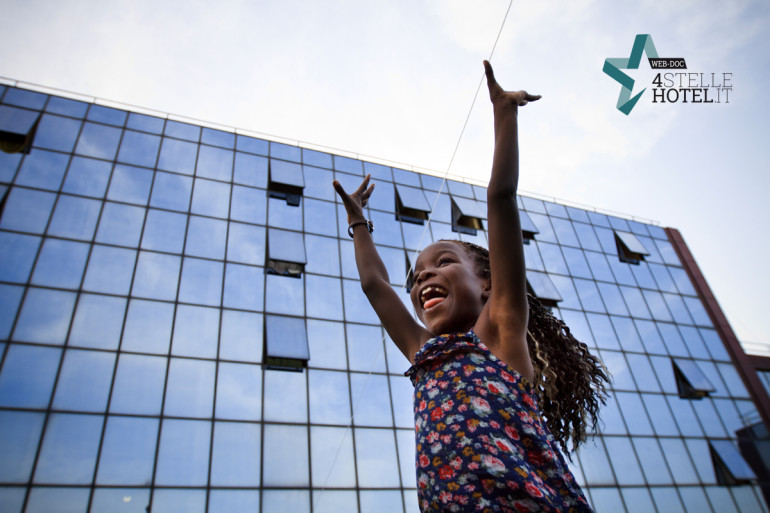 4Stelle Hotel is a web documentary that recounts a day in the life of the multiethnic community that occupied the abandoned luxury hotel on Via Prenestina in Rome and transformed it into their own home.
For years Italy has found itself under the international spotlight due to the massive influx of immigrants, who are often forced to live isolated from our society and are denied fundamental rights. 4Stelle Hotel documents a real response to this critical situation, with the story of self-organised community that has created a unique social experiment: living together whilst overcoming cultural and linguistic differences.
The Eurostars Roma Congress Hotel and Convention Center, a modern four-star hotel almost a kilometre from Rome's ring road (Grande Raccordo Anulare) on the eastern periphery of the city, closed unexpectedly in December 2011, laying off 60 workers. The structure is part of the international luxury chain Eurostars, which owns more than 50 hotels worldwide, predominantly orientated towards a business clientele.
The imposing glass strutcure remained abandoned for almost a year, until it became occupied by 200 migrant families, led by the BPM collective (Blocchi Precari Metropolitani), one of the most well-known movements tacklimg the housing crisis in the capital. The occupation is part of a wave of activism that took place on 6 December 2012, bringing around 3,000 people living in a housing emergency into dozens of unsold or unused buildings to shouts of 'let's take back the city'.
4Stelle Hotel is inhabited by around 500 people, comprising 30 different nationalities, who predominantly come from the Maghreb, the Horn of Africa, Latin America, Eastern Europe and Sub-Saharan Africa. They have been able to revitalise the hotel through shared re-activation of the rooms and communal spaces, according to a process of internal self-organisation, including cleaning rotas and picket lines. Some of the occupants have lived in Italy for years, others have escaped from regimes, revolution and extreme poverty. All of them claim with dignity their right to a home and a better future.
4Stelle Hotel is the story of this multi-ethnic apartment building, which is fighting for a brighter future, under constant threat of eviction by the authorities. The home, in fact, is not only a shelter: it is a right to be claimed and defended.
Credits
An interactive documentary by Valerio Muscella and Paolo Palermo
Produced by Fabio Ragazzo (ESoDoc 2014)
Web-designer: Martino Bresin
Filmmaker: Paolo Palermo
Photography: Valerio Muscella