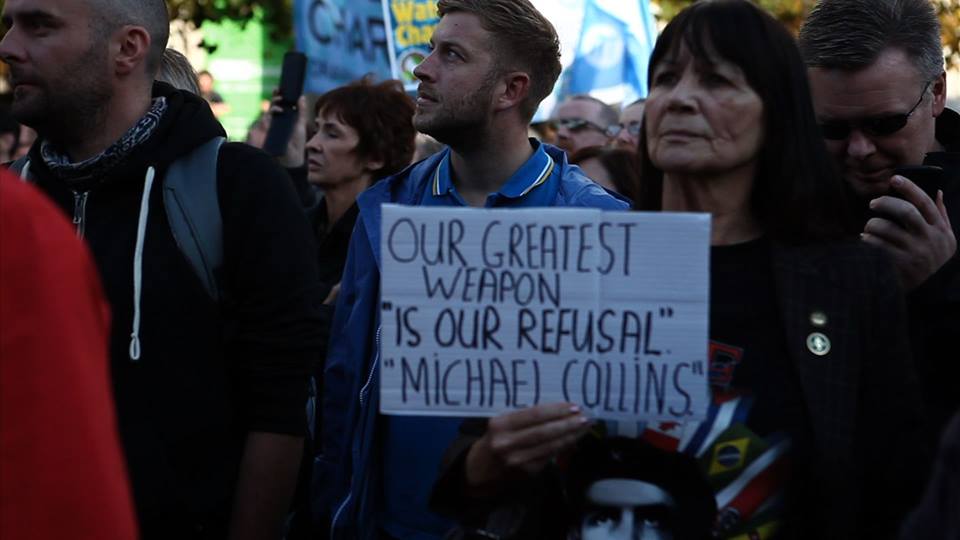 Eat Your Children is a provocation, an inside-out activist film, a film that attempts to document the invisible. It is a road-trip quest by two friends who emigrated from Ireland during the financial crash of 2008 and who have now returned to probe Ireland's so-called acceptance of debt and austerity.
The film uses formal observational footage, voxpop, archive material and a visual-essay style to create a rich and accessible tapestry of audiovisual material. It immerses the viewer into world of the protagonist-film-makers – two Irish women living and working in London and Barcelona who return home to find themselves uncovering the modern incarnations of Irish identity, post-colonialism, nationalism, globalization and resistance.
The film takes its title from Jonathan Swift's 1729 satire, 'A Modest Proposal', where he proposes poor families sell their youngest children to rich landlords on a meat market as a means of tackling Ireland's economic problems. The title hints bluntly at the infamous promissory notes of contemporary Ireland; the debt burden that will be carried by children today well into their adulthood and for an economic crisis not of their making.
In 2010, the Irish government was on the verge of bankruptcy. In an emergency all-night meeting two years previously it had decided to take responsibility for the debts of its main banks. When the enormity of the debts became apparent Ireland sought a bailout from the EU, IMF and European Central Bank. The €67.5 billion bailout is to be paid back through revenue raised by cuts to education, health and wide scale privatisation, forcing Ireland's younger population into unemployment, insecurity and emigration. And even when the architect of the ECB package admitted that austerity was 'not a reasonable way to go', the Irish people are repeatedly praised in the international press for their stoicism in accepting austerity without anything like the protests and riots seen in Spain, Greece, Portugal and Italy.
They travel to a gaelic football match, music festivals, ghost estates, the circus, and sites of protest in urban and rural Ireland. Through the road trip, they try to understand Ireland's identity crisis in the wake of the 'Celtic Tiger' and how history and culture affects their attitudes to resistance. Our protagonists meet Irish people on the streets, at protests, and seek answers from sociologists, politicians, historians, economists and activists. Are Irish people really content to pay off private debts of a dead bank? And pass that burden onto their children to boot? Is it because the safety valve of emigration hides the real unemployment? Is the media a fair reflection of what's happening or does it tell us what to think? How has our revolutionary history and the Troubles in the North affected our ideas of protest? How has globalization and neoliberal politics affected our collective solidarity?
Credits
Director/Writer: Treasa O'Brien (ESoDoc 2013)
Co-Director & Writer: Mary Jane O'Leary
Producer: Treasa O'Brien (Stinging Hornet Films, Ireland)
Executive Producers: Christopher Hird (Dartmouth Films, UK) and Rachel Lysaght (Underground Films, Ireland)
https://eatyourchildrenfilm.com/