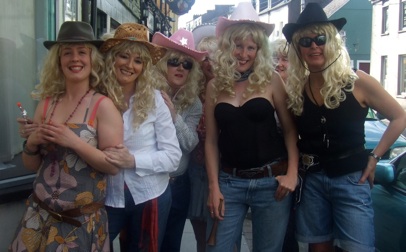 Outside I'm Singing is the culmination of a year long collaborative project between the artist, Lisa Fingleton, Mná Mná (Ireland's only lesbian choir, based in Cork, Ireland) and musical director Evelyn Quinlan. The work documents the process of creating a musical with an incredible group of women who have overcome a great deal to sing out and proud.
Outside I'm Singing is divided into three sections:
The Introduction: Happy Out, 2008 (12 minutes). This film documents the artist's initial struggles to create this project during her recent participation in ESODOC (European Social Documentary Film Programme). She was a member of the choir and wanted to make a film about something very important to her…little did she realise how tough it could be!
The Interviews: Joan, Janice, Evelyn, Letitia, Maureen (37 minutes). Five interviews with individual choir members which reveal the struggles the women went through to come to this place where they can sing freely. At times difficult, but ultimately uplifting stories of courage and bravery.
The Performance: The Farmers Daughter, 2009 (32 mins) which was held in the Firkin Crane Theatre, Cork in May 2009 to full houses and standing ovations. The musical is generally fun and light but has a real depth in the context of the stories and politics that surround it.
Credits
Directed by Lisa Fingleton (ESoDoc 2008)
Awards: Claremorris Open Exhibition, Emerging Artist Award, 2009
Website: www.lisafingleton.com