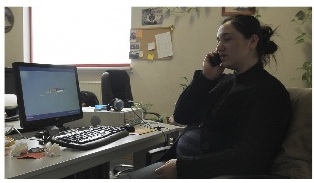 Roj tv is the voice of the Kurdish people, a nation divided on earth but reunited on air. It is based in Belgium and has a Danish broadcasting licence. We will witness three weeks in the life of Roj tv, from March 4th to March 21st 2011. March 4th is the one year anniversary of a big raid by Belgian police at the tv. March 8th is international women's day, an important simbol in Kurdish culture. March 21st is Kurdish new year, the very climax of all activities and celebrations year round. All this happens while Denmark, under anti­terror laws, is reassessing if it should keep granting the channel its broadcasting licence.
At Roj tv we meet Necibe, an experienced anchorwoman who fights for women's rights, but also a mother, who struggled years to live next to her son; Sebelan, a journalist working for a program targeted to women that is learning how to divide her day between a very demanding job and her new born child; Zilan, who runs a live show, investigating and openly challenging political and social assets. No one could guess it, but she is severely ill.
Three women, three lives, different personal stories, same struggle: that of Kurdish people in this world and that of women within a patriarchal culture. A lot has been said about the power of media and how it should be used. In fact, the large number of Kurdish people following Roj tv, and the great attachment of its audience to the channel, gives these women a real chance to effect their own culture from the inside.
The political and cultural background is outlined through day by day hard news and live programs where our characters work. We observe how the programs come to life picturing the everyday discussions, the never ending meetings, the frantic pace of work. And, of course, what it is like when they get back home at night, to their children and husbands, or to the apartment they share with other colleagues. We will witness the clash of images of civil war in Kurdistan with the lives our characters lead in Europe. We will find out that life within the tv community is a co­existence of modern and archaic, still resembling that of a big family.
The first week will get us to know the characters and their daily menage. March 8th will allow us to get deeper into their work and motivation, also looking back at important campaigns and special investigations about women issues, ranging from honour killings to daily survival in lost mountain villages. During the next two weeks Necibe, Zilan and Sebelan will suffer the day by day rise of political tension as we get closer to Newroz, that despite being a joyful day is often a time of violent repression in Kurdistan.
Roj is accused by Turkey to be mouthpiece of PKK and in 15 years of life has been shut down several times. If existence in the media has become a necessary element of existence in the modern world, who should decide who has the right to speak or not? We will observe what is life at an alleged to be terrorist channel.
Format: HD
Lenght: 52'
Credits:
Director: Allieta Melchioni (Italy)
Production Company: DIAVIVA srl