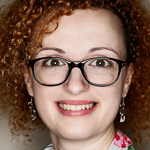 I am a documentary filmmaker originally from Moldova. In 2015, I graduated from DocNomads, a master course in documentary film directing. During this course, I studied in three different film institutions in Lisbon, Budapest and Brussels, and I directed a short documentary in each of them.
My short films, produced in countries such as Romania, Moldova, Portugal, Hungary and Belgium, received several international awards.
I have worked on international film co-productions as an assistant director and script supervisor. I have experience in content production for TV, social campaigns and commercials. 
My subjects are often invisible people: those who have something valuable to share with the rest of us, but whose voice is rarely heard. Whether by chance or unconscious decision, my protagonists end up always being women.
Project: Love is not an Orange
After years of separation, Moldavian mothers and daughters find a peculiar way of communicating with each other. By exchanging cardboard boxes filled with clothes, food and other objects, these families replace affection with material goods.