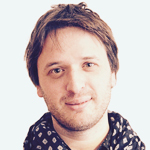 Nicolas is the cofounder of a_BAHN. He has focused her productions on citizen-provided content, working on themes such as mass tourism or modern slavery in Lebanon … His first production, broadcast by ARTE, SOUNDHUNTERS, was awarded a GOLD FIPA and a nomination at the Europa Prize in Berlin. He orientated his activities also toward international co-productions, as his latest features AFTERGLOW (supported by Sundance Institute and HBO EUROPE) can confirm. Nicolas is also a cofounding member of PXN (a French union of producers producing new types of storytelling contents). After giving master-classes on themes like the challenges of writing trans-media, or international co-production in this field (DOKFEST Munich, DOCUDAYS in Kiev, SXSW in Austin), Nicolas is now working with the NEXT PAVILION of the CANNES FESTIVAL for the 2016 edition. His latest project is the creation and organization of FARR, the first international film festival for virtual reality films.
Project: ZERO IMPUNITY
ZERO IMPUNITY is a transmedia documentary that aims to awaken the public to sexual violence in conflict and mobilize them by organizing an international participatory action. There are two components to the project: an interactive documentary and a black and white animated documentary film.